Agronomy for Me! Grades K-4
What's Agronomy?
Even if you don't know exactly what agronomy is, you live with it every day! The science of agronomy brings the research of plants and soils together into one field.  Soil is the substance that plants grow in (you might know it as dirt!) Scientists who study agronomy are called agronomists. Agronomists are interested in learning about soils and the plants that live in them so that we will have food to eat as well as a clean environment that will last forever.  From the milk you drink to the vegetables you eat, from the ethanol-based gas in your car to the grains used to feed chicken and cattle, and from the grass on the soccer field to the natural fibers of the clothing you wear and the medicines you consume, all are products of agronomy.  Agronomy Feeds the World!
How Plants Grow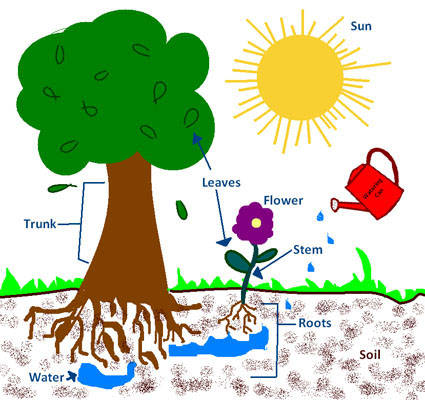 Plants begin as seeds and, if given water and sunlight, are able to begin sprouting and taking root into soil. The roots of plants are buried under the soil, and make the plant strong enough to stand up and grow above the surface.
To continue growing, plants need three things:
Air has carbon dioxide in it, which is a compound that plants use, along with water, to make their own food.
In order to get water into a plant, the tree, bush or flower takes up the water through the roots. The water is then carried by the stem or trunk to the leaves and flowers.
Water in the soil that is taken up by the plant also has nutrients in it such as nitrogen and phosphorus that the plant will to grow and stay alive.
Plants are able to make their own food by carrying out photosynthesis in their leaves. This process uses water and sunlight to make the energy and food that the plant needs to live and grow.
Fun and Games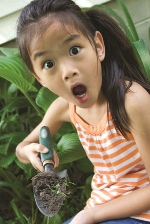 Soils 4 Kids – Play fun soil games! Experiment with Soil! Learn why soil isn't dirt!  And more!
My American Farm - Fun online games for K-5 – for both the classroom and families.  Brought to you by the American Farm Bureau Foundation for Agriculture.
How Many Plants in a Hamburger? - Learn about the large variety of plants that go into creating the delicious burger ingredients from the American Society of Plant Biologists.
Ask S.K. Worm! - The friendly S.K. Worm can answer any question about soil! Visit S.K. Worm at the USDA-NRCS site - S.K. Worm is their official annelid, or worm!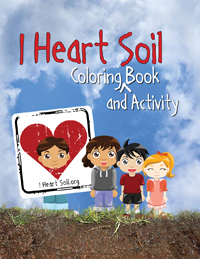 Let's Color! – Learn about soil, color, and play word games with the free I Heart Soil Coloring and Activity book from the Soil Science Society of America. 
Kids Zone - USDA Agriculture in the Classroom - Check out this fun site with science projects, virtual tours, test your Ag-Knowledge, learn about farm & fun food, and check out cool facts about your state!
Want to grow your own fruit/vegetables?
 We have seeds available for you!  Just contact us at membership@sciencesocieties.org with your name and address and the number of packets you would like (be sure to get your parents' permission). Don't worry, we don't put your name in any database or use it to contact you after sending the seeds. Note to teachers - if you are interested in larger quantities, please feel free to contact us as well.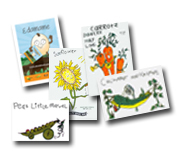 Edamame - Glycine max 
Pumpkin - Cucurbita pepo
Pea - Pisum sativum
Lettuce - Lactuca sativa
Carrot - Daucus carota
Cucumber - Cucumis sativus